Complex ProMax
BioSource Labs produces the highest quality, most effective weight loss formulas available anywhere on the market. As a leader in the weight loss community, we believe being the best is a never-ending pursuit that requires constant improvement and innovation.
Over the years, we have listened carefully as our customers have provided important feedback about their likes, dislikes, failures, and successes of using our products.
This valuable information has allowed BioSource Labs to improve and innovate products based on customer feedback, so we can give you more of what WORKS!
WELCOME TO THE FAMILY COMPLEX PROMAX!
Complex ProMax is a powerful blend of 17 carefully selected ingredients. The combined ingredients work together to unleash your body's fat burning potential, while helping reduce hunger, balance hormones, and raise energy levels.
Who Is It For?

BioSource Labs developed Complex ProMax to answer the needs of new dieters who want a safe, effective alternative to rapid weight loss. This product is also for experienced dieters who may not be getting the same results they have achieved in the past while using other diet drop formulas.
Complex ProMax is best for those new to the VLCD (Very Low Calorie Diet) protocol, as well as those experienced dieters who may not be getting the desired results from other diet drops formulas.
Complex Diet Drops Vs. Complex ProMax

Complex Diet Drops is still the preferred choice of advanced diet drops for dieters all over the world who follow the VLCD diet protocol because it simply delivers incredible weight loss results.
Although it is the newest additional to our family of products, it has quickly become one of our top sellers alongside Complex Diet Drops.
Why Complex ProMax?
In our experience, we have found that with weight loss formulas "one size fits most", but not all.
This is especially true when dieters have used the same product multiple times and have trouble getting results they want.  We call it the "immunity phenomenon".
When it comes to weight loss, some people may become "immune" to the effects of a particular product. Formulas that may have worked in the past can become less effective.
When this happens, the body needs something new!
*Based on customer feedback, not clinical trials.
The Ingredients
Garcinia Cambogia (60% HCA) – Blocks fat by signaling the liver to convert more sugar and carbs into usable energy, helps suppress appetite
African Mango – Suppresses appetite, helps lower blood-glucose levels, reduces formation of fat cells
Caralluma Fimbriata – Suppresses appetite, helps maintain healthy metabolism
Ecklonia Cava – Helps reduce weight gain, helps reduce inflammation, antioxidant properties
Green Tea – Powerful antioxidant properties, helps burn fat, and improves cardiovascular function
Maca – Balance hormones, increase energy and stamina, improve memory and focus
Guarana – Increase energy and reduce fatigue, increase fat burning
Astragalus – Helps lower cortisol (stress hormone) levels, immune booster, protects cardiovascular system
Gymnema Sylvestre – Helps lower blood sugar and "bad cholesterol" levels
Panax Ginseng – Helps reduce fatigue, increase stamina, anti-inflammatory
Pygeum – Anti-inflammatory; helps regulate hormone production
Beta Alanine – Amino acid that helps the promote and retain lean muscle
Rhodiola Rosea – Helps burn fat and increase brain function; Helps regulate blood sugar and stress
L-Glutamine – Amino Acid that helps promote and retain lean muscle; Improves metabolism and cellular detoxification; Helps regulate blood sugar and stress
L-Tyrosine – Amino Acid that helps improve mental performance, memory, and alertness
GABA – Helps control stress and improve mood.
L-Carnitine – Amino Acid that helps burn fat, suppress appetite, reduce fatigue. May help improve thyroid function.
L-Ornithine – Amino Acid that helps promote and retain lean muscle, and improve cellular detoxification.
L-Tryptophan – Amino Acid that helps increase serotonin levels, improve mood, and suppress appetite.
Chromium Picolinate – Helps improve metabolism, lower blood sugar, and increase insulin sensitivity.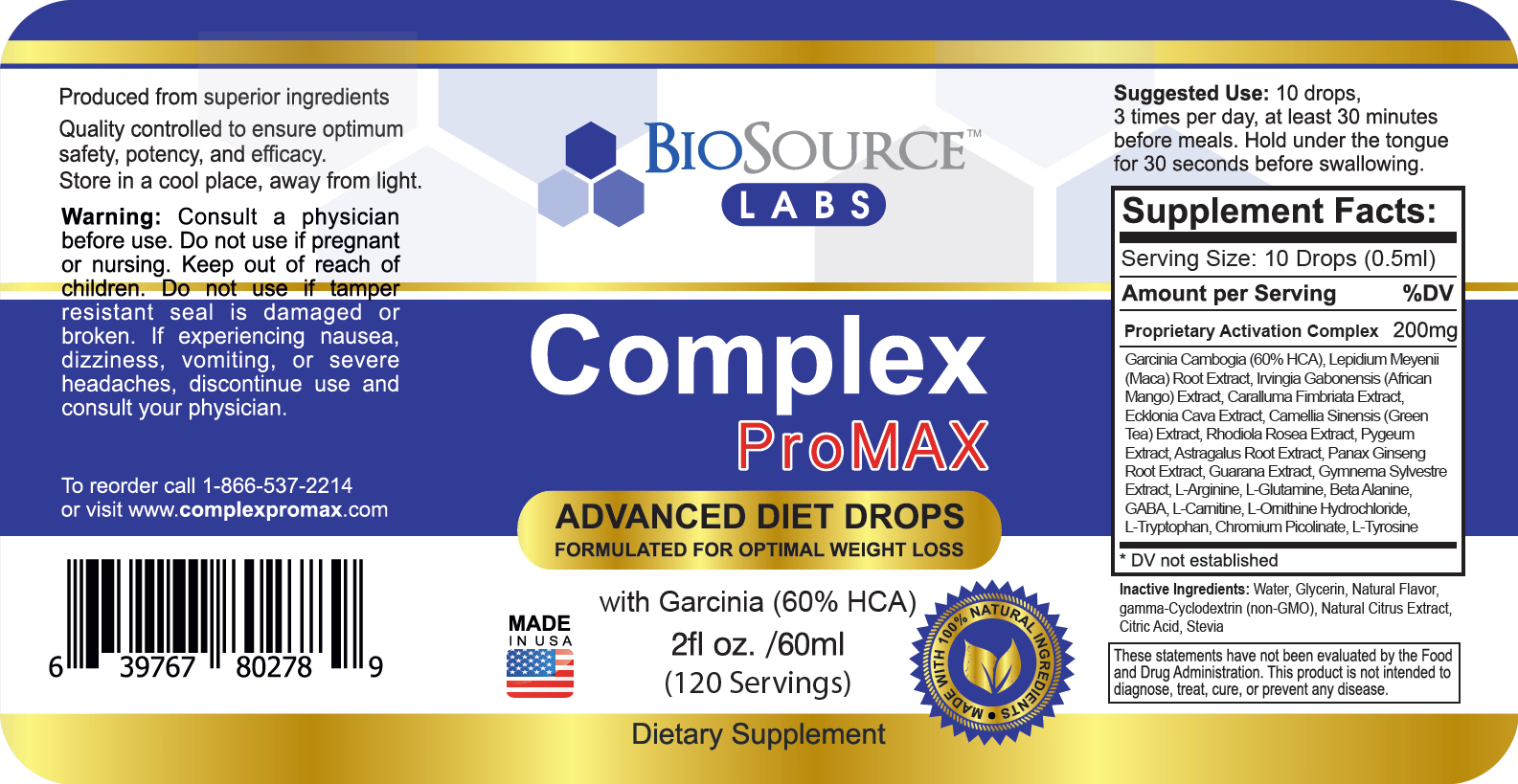 Benefits of Complex ProMax

Ingredients in Complex ProMax have shown to help:
Quickly reduce body fat
Control hunger and appetite
Provide energy
Protect lean muscle mass
Balance hormones and stimulate proper hormone production
Best Use
During the VLCD diet protocol
Can also be used as a maintenance formula for ongoing support (If doing the diet again, take a break from using for 3 weeks.)
Instructions
Take 10 drops (0.5ml), 3 times per day at least 30 minutes before meals. Hold under the tongue for 30 seconds before swallowing.
To be used in conjunction with the BioSource Labs Diet Protocol.