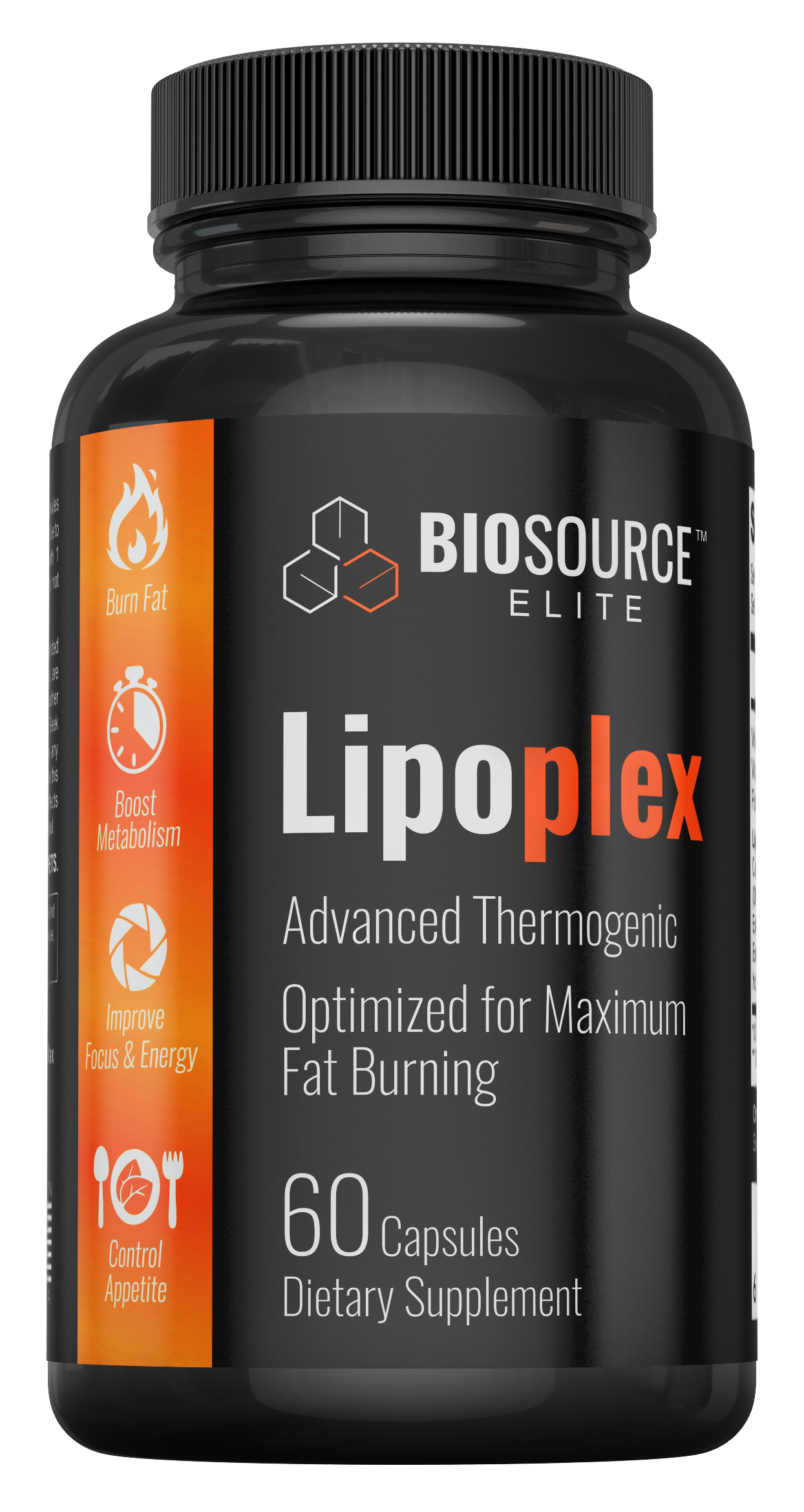 Lipoplex
Lipoplex is an extremely potent thermogenic complex designed to supercharge your metabolism and transform your body into a fat-burning furnace! Whether you want to crush your workout in the gym, shred down your core so you can look your best on the beach, or reach extreme productivity at work, Lipoplex is the right product for you.
Who Is It Best For?
Lipoplex is the secret weapon for men and women looking to naturally blast fat away and get a serious energy kick. Lipoplex gets you in the right mood to reaching your weight loss goals quickly and effectively.
This product suitable only for men and women over age 18.
People of all different backgrounds have discovered the power of Lipoplex. Some Lipoplex users include:
Bodybuilders as a pre-workout (Professional athletes should check ingredients on WADA list prior to use).
Men and Women wanting to lose weight quickly.
Dieters having a hard time losing their last few stubborn pounds to hit a goal.
Dieters who have hit a plateau in their weight loss.
Moms who need extra energy while running the kids around.
College students trying to power through long study sessions.
Men and women who don't like drinking coffee or energy drinks but want a boost to get through the day.
The Ingredients
Lipoplex is not your average fat burner. It contains essential B-vitamins that can become depleted in the body from dieting and heavy exercise. In addition to the essentials, Lipoplex contains a blend of specialized ingredients shown to protect the immune system, enhance focus, and produce extended amounts energy without that jittery feeling.
Vitamin B6 – Helps boost brain function, improves mood, healthy blood cell production.
Vitamin B12– Boosts energy, helps improve memory and brain function, healthy blood cell production.
Folate (as Folic Acid) – Helps prevent DNA damage and protects heart by controlling homocysteine levels.
Caffeine Anhydrous – Increases energy and metabolic rate to burn more calories
2-Aminoisoheptane (DMHA) – Sustained energy increase, reduces appetite, increases blood flow.
Green Tea Extract – Boost immune system, increase energy. Contains powerful antioxidants that help prevent cell damage.
Green Coffee Extract – Promotes weight loss, helps regulate blood sugar, may help lower blood pressure
Hesperidin – Helps lower blood pressure and reduce inflammation.
L-Tyrosine – Amino Acid that helps improve mental performance, memory, and alertness.
Cayenne Pepper Extract – Helps speed up the metabolism and reduce hunger. Rich in nutrients and antioxidants.
L-Theanine – Helps reduct stress and symptoms of anxiety. Increases focus.
Hordenine hcl – Helps curb hunger, boosts energy and focus
Higenamine hcl – Promotes weight loss, increases blood flow
Bioperine –  (Black Pepper Fruit Extract) – Improves nutrient absorption, increases metabolism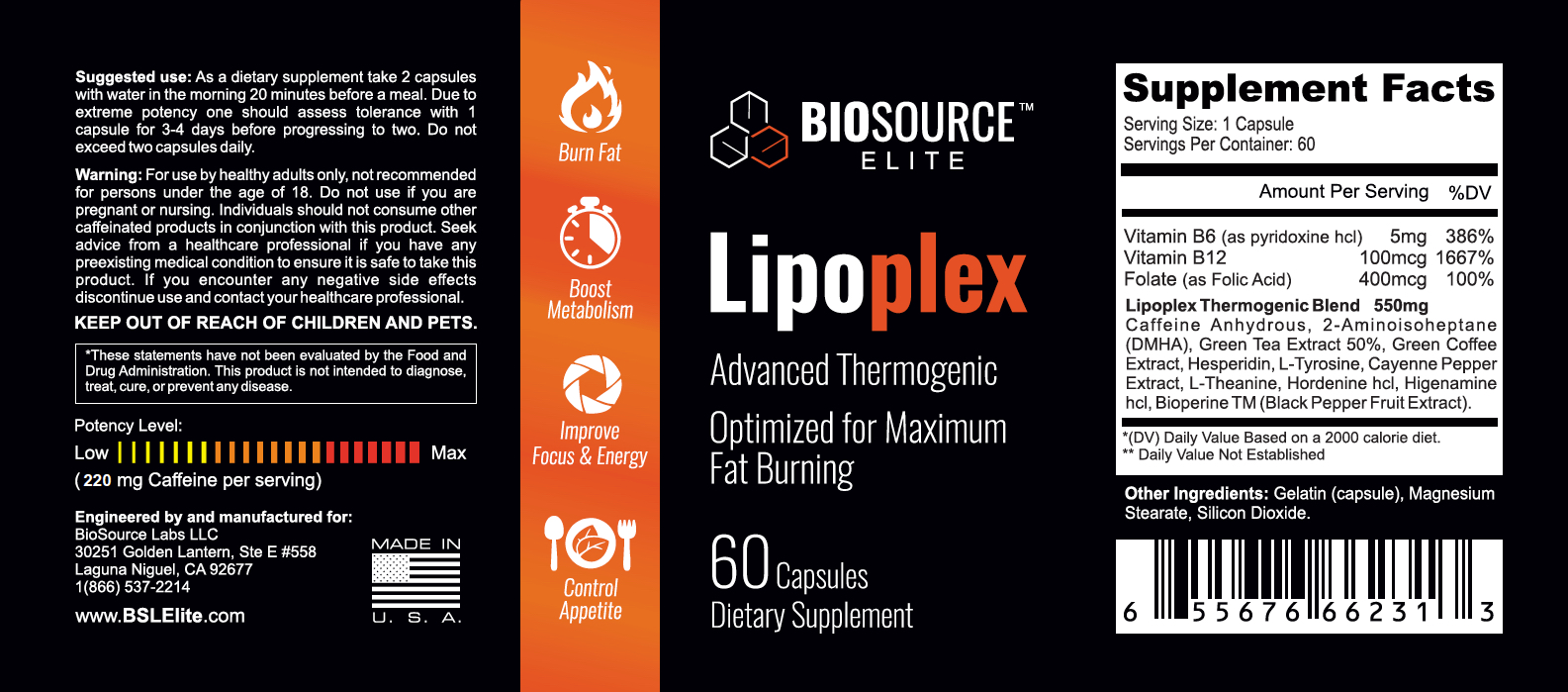 Benefits of Lipoplex

Enhanced mental clarity and focus
Increased energy and stamina
Increased intensity in workouts
Burn Fat
Cut water weight
Replenish essential b-vitamins
Increased blood flow
Best Use
The majority of Lipoplex users are men and women seeking to lose weight or improve performance in the gym. However, more people are using Lipoplex to simply improve energy levels and focus during the day.
This product is best used in conjunction with a healthy diet and exercise. Maintaining a proper diet unlocks the true power of Lipoplex, helping you achieve your weight loss goals in record time while giving you a sustained energy boost.
Some of the best times to use Lipoplex are:
Before the gym or exercise
In the morning (may cause sleeplessness in those sensitive to caffeine)
Right before extended periods of work or studying
Substitution for coffee, tea, or energy drinks
Instructions
Take 1 capsule with water in the morning, 20 minutes before a meal.  Due to extreme potency one should assess tolerance with 1 capsule for 3-4 days before progressing to two. Do not exceed two capsules daily.
Max Daily Dosage: 2 Capsules
Avoid drinking coffee or tea containing caffeine while using this product.
WARNING: NOT FOR USE BY INDIVIDUALS UNDER THE AGE OF 18 YEARS. DO NOT USE IF YOU ARE PREGNANT OR NURSING. THIS PRODUCT CAN RAISE BLOOD PRESSURE AND INTERFERE WITH OTHER DRUGS YOU MAY BE TAKING. TALK TO YOUR DOCTOR ABOUT THIS PRODUCT.
INDIVIDUALS WHO CONSUME CAFFEINE WITH THIS PRODUCT MAY EXPERIENCE SERIOUS ADVERSE HEALTH EFFECTS. INDIVIDUALS WHO ARE SENSITIVE TO THE EFFECTS OF CAFFEINE SHOULD CONSULT A LICENSED HEALTH CARE PROFESSIONAL BEFORE CONSUMING THIS PRODUCT. DO NOT CONSUME SYNEPHRINE OR CAFFEINE FROM OTHER SOURCES, INCLUDING BUT NOT LIMITED TO, COFFEE, TEA, SODA OR OTHER DIETARY PRODUCTS OR MEDICATIONS CONTAINING CAFFEINE OR PHENYLEPHRINE. DO NOT USE FOR MORE THAN 8 WEEKS. CONSULT WITH YOUR PHYSICIAN PRIOR TO USE IF YOU ARE TAKING MEDICATION, INCLUDING BUT NOT LIMITED TO MAOI INHIBITORS, ASPIRIN, ANTIDEPRESSANTS, NON-STEROIDAL ANTI-INFLAMMATORY DRUGS OR PRODUCTS CONTAINING PHENYLEPHRINE, EPHEDRINE, PSEUDO-EPHEDRINE, OR OTHER STIMULANTS. CONSULT YOUR PHYSICIAN PRIOR TO USE IF YOU HAVE A MEDICAL CONDITION, INCLUDING BUT NOT LIMITED TO, HEART, LIVER, KIDNEY, OR THYROID DISEASE, PSYCHIATRIC OR EPILEPTIC DISORDERS, DIFFICULTY URINATING, DIABETES, HIGH BLOOD PRESSURE, CARDIAC ARRHYTHMIA, RECURRENT HEADACHES, ENLARGED PROSTATE OR GLAUCOMA. DISCONTINUE 2 WEEKS PRIOR TO SURGERY OR IF YOU EXPERIENCE RAPID HEART BEAT, DIZZINESS, SEVERE HEADACHE OR SHORTNESS OF BREATH. IN CASE OF ACCIDENTAL OVERDOSE, SEEK PROFESSIONAL ASSISTANCE OR CONTACT A POISON CONTROL CENTER IMMEDIATELY. AVOID ALCOHOL WHILE TAKING THIS PRODUCT. EXCEEDING RECOMMENDED SERVING MAY CAUSE SERIOUS ADVERSE HEALTH EFFECTS, INCLUDING HEART ATTACK AND STROKE. IMPROPER USE OF THIS PRODUCT MAY BE HAZARDOUS TO A PERSON'S HEALTH.
Due to current demand, Lipoplex is not available for purchase online. If you're interested in this product, please submit an inquiry below to see if Lipoplex is available in your country.